Snowboarding is one of the most interesting sports but it is also full of challenges and thrilling moment. The main reasons why people are attracted to this sport are that because it is fun, it is challenging and it helps you keep it. Playing snowboarding also gives you a chance to experience the beautiful nature around you.
This exciting sport requires you to have good stamina and endurance. In order to play this sport well, you need to prepare a lot of knowledge as well as information and tips on playing snowboarding. In addition, you also need to buy proper equipment namely snowboard, bindings, proper clothes and protective equipment.
There are various types of snowboard and bindings that you can consider. They are different in sizes and types as well as the material and prices. You need to pay a lot of time and effort in searching for the best types that match your needs.
The same thing would apply to clothing. Unlike any other sport which don't require much attention on proper clothing, having a proper set of clothing in snowboarding is very important.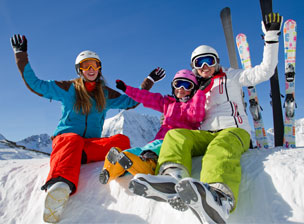 So why do you need to buy appropriate clothing for snowboarding?
When you go snowboarding, you will have a good chance to go into the nature and beautiful mountains. However, the climate in the mountain is sometimes unpredictable and could lead to harm in your health.
Therefore, you would need to have warm clothes to prevent you from losing heat in the cold in the high mountains.
A suitable set of clothing will keep you warm but not make you feel stuffed, hence helping you to enjoy the sport more and have a fun and comfortable during the time you play the sport.
It will also help you to stay dry all the time so that you will not get sick if it rains in the mountain.
Therefore, you would need a set of clothing which is warm enough, lightweight and water resistant.
 The way you dress up is also very important. The most practical way to do so is dressing in layer. If you wear in layers, when it is getting hot, you can take off each layer one by one. When it is getting cold, you can also wear adding more layers until you feel warm enough. There are 3 basic layers you should wear when you play snowboarding including the base layer, the middle layer and the outer layer.
Here is what you should wear in each layer:
Base Layer
The base layer needs to have clothes that would be able to keep you warm without keeping moisture and sweat to stick to your body.
The base layer would include your thermal body shirt. The best material for a thermal body shirt should be polypropylene. This material will do a wonderful job to keep your body warm but do not keep your sweat, hence making you feel warm and comfortable.
For the bottom of your body, you need to wear full length leggings. You should also go for polypropylene.
The last thing you need for the base layer is a pair of snowboarding socks. You should wear a pair of socks that has the length of up half way to your calf.
Middle Layer
For this second layer, you would need a jacket or a sweater for the top of your body.
For the bottom, you should wear a pair of snowboarding pants and boots.
Outer Layer
For the last layer, you need to wear items that are able to protect you well. These items include your helmet to protect your head and your ears. You also need to wear a pair of goggles to protect yourself against the damage of the UV rays.
Here are some things that you need to know in order to wear in the most suitable way for snowboarding. Having the right clothes is very important to protect you against the severe weather you may encounter in the nature.
Besides that, you need to buy other thing such as boards and bindings. I hope that with all the equipment you prepare before playing, you would be able to play snowboarding with fun and be safe all the time.