Golf is one of the most popular sports in America with thousands of people taking part in this sport each year. There are a lot of benefits that people can get from playing golf such as the chance to stay fit and have a good heart. In addition, you can have a chance to bond with your family and friends while being out in the nature. You can find more info about the benefits of playing golf in many articles.
If you decide to take part in playing golf, there are a lot of things that you need to prepare such as the best Golf Clubs for beginners and even proper clothing.
The Need For Choosing The Right Set Of Golf Clubs:
Choosing clubs is considered one of the most important but challenging tasks, especially when you are a new beginner in golf. There are various kinds of clubs for you to choose. And with different types of clubs, there are choice for material, sizes and even prices.
In case you are still looking for a set of club to buy, the first thing that you need to do is planning what types of clubs you would need. Although you might be overwhelmed with the wide selection of clubs on the market, for the beginning level, you should only go for a few classic and basic clubs at first.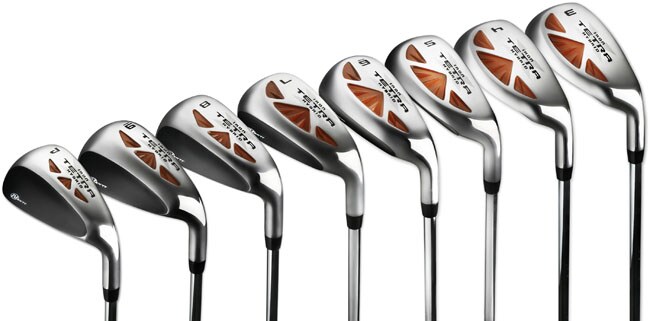 In general, you will need different golf clubs for different types of shots. For example, if you want to have long distance shots, you need to use the driver golf club for better efficiency and if you want to shot the ball in the target, you will need a golf club with a high ability of accuracy, which is the putter.
We also have the option of iron club, which you can use to shots for different types of swings before you finally put the ball into the hole.
In case you are a beginner in golf, who does not have much experience in buying golf equipment, here are some tips you can take in order to choose the best set of clubs for your need:
Know what level of golf you are playing at. There are 4 types of levels including low handicap level, middle low handicap level, high middle handicap and high handicap. These levels of difficulties might be hard to understand for beginners so that you can ask your golf teachers or experts in golf store for more pieces of advice.
Download the list of the necessary golf clubs that you need to buy before you go to the store to avoid buying more than what you need.
Try each club before buying to see if you are comfortable swinging with it or not.
One of the best clubs for beginner is the hybrid golf club. In case you don't know about this wonderful club and the reason why you should choose it, read on and decide for yourself.
So what is a hybrid golf club?
A hybrid club could be considered the combination of a long iron club and a fairway wood club. So in general, you can use this type of golf club when you want to have long distance shot or when you want to get the ball into the hole accurately. These two types of shots are the most important shots when you play golf and surely a hybrid golf club can help you do these shots with little effort.
Why should you buy a hybrid golf club?

The hybrid club is the most suitable for beginner for many reasons.
First of all, it comes with a flatter deign of the face and a shorter length of the shaft. All of these will make a hybrid comes in contact easily with the grass surface. In addition, the shorter length of the hybrid golf club enables you to have more powerful shot even though you don't know how to put much pressure onto your shoot each time.
In addition, you can use the hybrid golf club for all time of shots, including fairway or long distance shots. This golf club is very good in term of controlling for distance and accuracy.
With this hybrid club, you can lower your score very easily and hence improve your performance at the game as well as increasing your chance of winning. In short, a hybrid golf club will help you to score better in both easy and difficult shots.
For a beginner, the ability to play well with ease will surely make each of the golf game session much more enjoyable.
It is worth noting that like any other club that you are going to use for your shots, no matter how good it is when it comes to the material and accuracy, you need to have proper swing techniques in order to shot more accurately and efficiently.
I hope that you can gain more knowledge after reading some information about hybrid golf club. This is one of the most essential clubs that beginners in golf should consider purchasing. With this club, you would be able to achieve a good performance with little effort and soon enough, you will be able to gain more skills and techniques with this club.
There are a lot of advanced clubs that you can purchase later on but the hybrid golf club is surely your best choice no matter what level of golf you are playing with.
On the site of http://justgolfblog.com/, we provide the articles in different field of golf which are contain the information for both beginners and the experts.